So you've decided to invest in a drone, but with the popularity of the market leading DJI brand, discounts are hard to come by.  Unfortunately, direct discounts are next to impossible, but with some creativity it's possible to save both time and some money the DJI Spark, Mavic, and Phantom!
Tip Number #1:  Don't buy from traditional retail
Traditional retail means high markups.  Not to mention travel time, parking and sales tax.
Tip Number #2: Buy online and save the tax
Buy via Amazon for a chance to save the tax.  'Chance' because it depends on which state/province you live in.  Also, 'via Amazon' meaning from a third party who lists on Amazon, but not direct from Amazon.  Assuming the third party isn't in the same province as you, there shouldn't be any tax (see below).  This in itself can save you hundreds of dollars.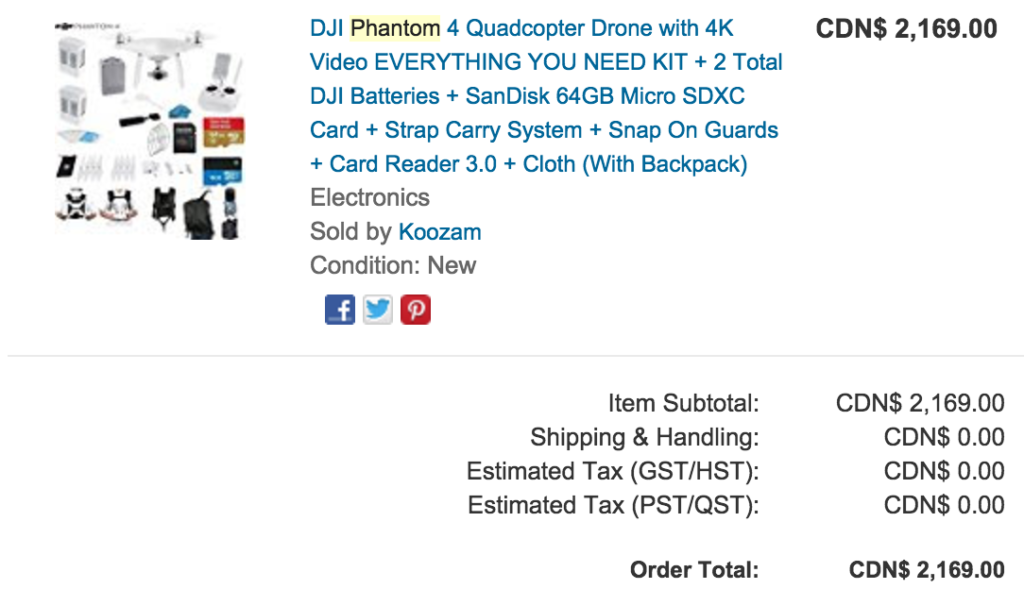 Tip #3: Go to eBates first
Before heading to Amazon directly, sign-up for eBates.  By going through eBates, you can get an additional 1-4% cash back on not only your drone, but all future purchases from various online retailers.
Tip #4: Pay with a cash-back credit
Complete your purchase with a cash back credit card to get additional cash back.
Conclusion:
Between the tax savings and the cash back, you can easily save hundreds of dollars off of a new DJI drone and accessories!