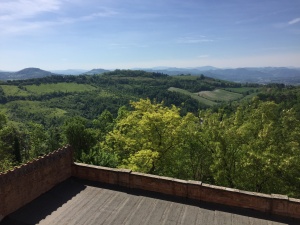 I was fortunate enough to be invited by Emilia Romagna Region Tourist Board and Bologna Welcome to discover the beautiful region of Bologna, Italy. As usual, my objective was to discover hidden gems around the area that's off the beaten path.
Overall, the region was unbelievably beautiful with very friendly people. If I could sum up the experience in one sentence, it would be that Bologna is a city where non-Italians become Italian. It's a city full of authentic local experiences from family owned restaurants, historic buildings and outdoor markets.
So without further ado, here are the top reasons to visit (and even live) in Bologna, Italy.
1. Life is a Vespa
What's a visit to Italy without a Vespa ride?  To discover the city and the beautiful surrounding area on a Vespa, make your way over to Travelhoo near the main central square of Piazza Maggiore in the center of the city. During the tour, you'll discover many sites, including:
San Michele in Bosco
Sanctuary of San Luca
Palazzo de Rossi
Sabbiuno War Memorial
Ponte di Vizzano
Various vineyards and wineries
The highlight of the tour is the beautiful vast scenery of Bologna's countryside. With limited traffic and the wind in your hair it's an experience that can't be missed!
Travelhoo –Via Caduti di Cafalonia 4/B, Bologna, Italy
2. Keep on Pedalling
Bologna is a very bike-friendly city. With very limited inclines, bicycles are usually the fastest way to get around the city. There's even a bicycle highway that circles the city with it's own dedicated lanes.
So where can you rent a bike or sign-up for a tour? Be sure to check out Dynamo where you can rent a bike (2 hours to 24 hours), sign-up for a bike tour, and even just hang out and enjoy their free Wifi. They even have electric bicycles for those looking for some added fun! Located near the main train and bus stations.
Dynamo – Via Indipendenza 71/Z, Bologna, Italy
3. It's Called Bolognese Pasta for a Reason
A visit to Bologna wouldn't be complete without trying authentic Bolognese Pasta. This simple, but delightful recipe is in a league of its own when made fresh with local ingredients.
Tip: In Bologna, it's called Tagliatelle alla Bolognese.
Check out La Torinese or Altro? to wine and dine like (and with) the locals!
La Torinese – Piazza Re Enzo, 1/C, Bologna, Italy
Altro? – Via Ugo Bassi, 23-25, 40121 Bologna, Italy
4. …And of Course, Gelato!
There's nothing like fresh, locally made Gelato after a great meal. La Torinese also offers gelato, which is made daily and the atmosphere of the area will make you feel truly Italian. When you're there ask for Cristian. If you ask nicely, he might just let you try all the flavours!
La Torinese – Piazza Re Enzo, 1/C, Bologna, Italy
5. Live in the Fast Lane
Is there a car junkie in your group? A trip to Bologna wouldn't be complete without a tour of the Lamborghini factory. Located 30 minutes by car from the city center, the tour includes floor access to the factory (no cameras allowed!), access to the museum and a visit to the gift shop where you can find authentic and unique Lamborghini merchandise not available anywhere else.
6. Live in the Fast Lane (v2.0)
Halfway to the Lamborghini museum, you'll find the Ducati factory where you can tour the factory floor, visit the museum (under renovation until July 2016), and purchase exclusive merchandise. Highly recommended for those considering a Ducati in the future as it will help you truly understand the work and craftsmanship that goes into each bike.
7. Always Dry
Bologna is the city of porticoes (covered walkways). With over 38kms of porticoes throughout the city, there is no such thing as a rain day when touring Bologna.
8. Work the Legs
The longest stretch of porticoes is almost 4km long leading up to the Basilica of San Luca. The key word here is 'up' because it's a steady climb from Meloncello Archway (Saragozza St.) all the way to the basilica. The locals refer to it as their gym because a round trip is over 7.5km long. A good way to work off the pasta and gelato!  See a quick preview here.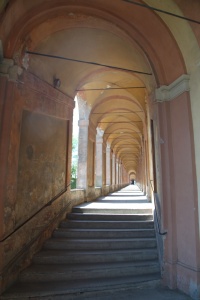 9. A Window to Your Future?
There is a little known stop along the side streets of Bologna called Finestrella di Via Piella. Known as the "Little Venice" it is one of the few places where you can still see the Canale delle Moline as most of it now runs under the streets/asphalt. If you look carefully you will find a small window that allows you to view the canal. To some, it's just a window, but for others it's a calming sight and even a window into the future.
10. Class of 1088
If you're a university graduate, a walk through the University of Bologna is a must. The University of Bologna is the oldest university in Europe dating back to 1088!  While walking through you can almost picture all the intellectuals from the past debating and working towards a better future.
11. Jazz up the Night!
After a long day of touring, it's nice to have a place to unwind and calm the soul. Cantina Bentivoglio, located in the heart of the student/university area, offers live Jazz each night. They even have free wifi. A great place to settle down for some great music, drinks and to catch up on emails.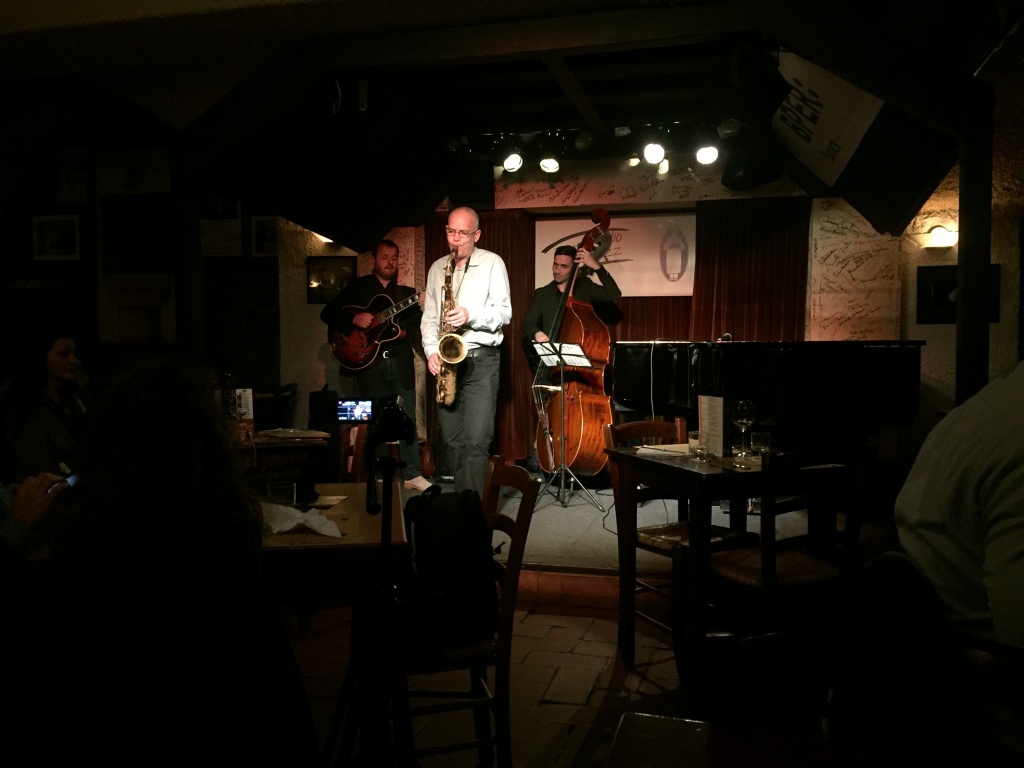 12. Minorities are Majority
Bologna is a highly diverse and very LGBT friendly city. Beginning in the seventies it has been a meeting place for the LGBT community and continues to this day. More details here.
Overwhelmed? Don't be. A lot of the above can be easily combined. Generally, everything above can be experienced in 3 days/2 nights if you're tight on time.