Be sure to scroll down to the 'Additional Tips' below to learn how to 'triple-dip' on your purchase rewards!
Below I will try to answer the following questions about Ebates:
How does Ebates work?
How can they offer cash back?
How often will you get money back?
Additional tips
How does Ebates work?
Ebates is a click/lead generator for the different merchants on its site such as Amazon, Old Navy and Expedia (among hundreds of others).  In other words, Ebates sends you to the merchants' sites to make purchases in exchange for a commission.  Once on the merchant's site, users shop as they normally would directly with the merchant (not with Ebates).
How can they offer cash back?
As stated above, Ebates makes a commission from each sale, alongside advertising and promotional revenues.  The commission portion is what is split between the user and Ebates.
How often will you get money back?
You need a minimum of $5.01 in order to have a cheque sent.  Cheques are sent out roughly 45 days after the end of each quarter (March 31st, June 30th, September 30th, December 31st).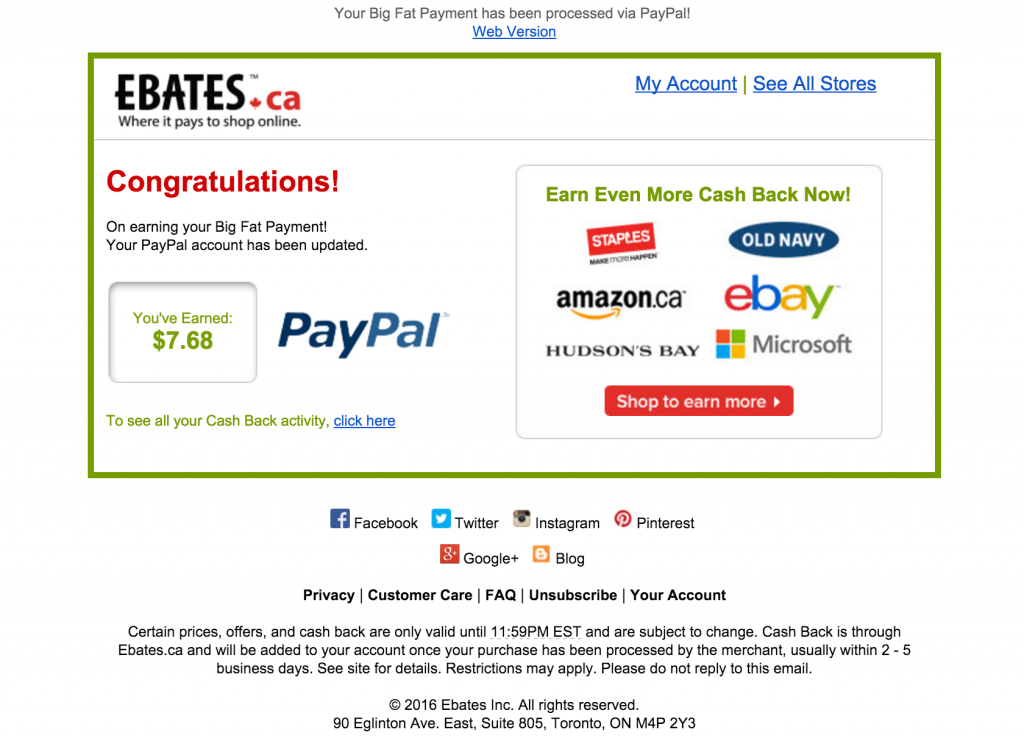 Additional Tips
Be sure to get a cash-back or points credit card to get even more rewards.  American Express has some great promotions on right now.  For sites like Expedia and Hotels.com who have their own rewards system, rest assured that you're still eligible for these alongside the Ebates cash rebates.  Simply put, you can triple dip on rewards by combining Ebates with the right merchant and rewards card!
Ensure browser cookies are enabled and any ad blockers are turned off.  This will allow the merchants to track that you have indeed come through from Ebates.
Always be sure to go to Ebates first.  Some merchants may not honour the commission if you were already shopping on their site.  If in doubt, use another browser and clear your browser cookies first.
Be sure to add your paypal account to get money quicker.
Any questions, please contact me or tweet me.