Of the many notable travel trends over the past couple years, one trend that has become quite popular is Travel Hacking. This gave birth to sites like Travel Hacking Cartel among others.  So what is travel hacking and how does it work?
Travel hacking is the strategy and tactics implemented by individuals or groups that track, exploit and maximize travel savings, travel rewards programs, airline/hotel loopholes, and pricing errors to travel at superiorly discounted rates usually not readily available to the general public.
In other words, by mixing reward program points with a dedicated collection and redemption strategy, while tracking airline sales and mistake fares, it is possible to travel for free (or close to it).
So how does one get into travel hacking?  While pondering this, I found a site called Travel Hacking Cartel. This site claims to be the ultimate guide to travel hacking created by award-winning writer, Chris Guillebeau, author of $100 Startup.
After reading up on Travel Hacking Cartel some more, I decided to git it a shot.  Since one of their claims is, "one plane ticket every 3 months," I figure it doesn't make sense to post a review on it at the end (if there is an end?) as the whole process could take months.   So I thought it would be beneficial to my readers if I did a week to week live blog of my experience.
So here goes nothing…
Sign-up day:
Slightly nervous at first as it's a financial commitment, but quickly realize the first two weeks is only $1 with no commitment. Decide to sign-up for the First Class plan ($39/month) as I figure go big or go home!
As soon as I signed-up, I got access to the current deals section. I scrolled through to get aquatinted with the type of deals to expect. Right off the bat, I found a promotion for 100 free aeroplan points for 30 seconds of work. Score!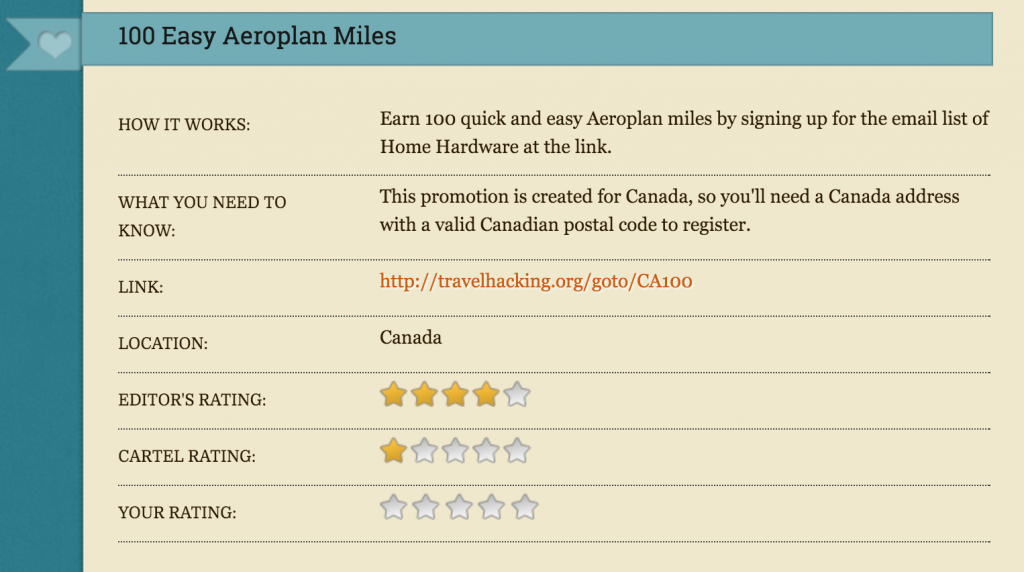 After scrolling some more, I quickly realized the need to sign-up for a bunch of programs I wasn't already part of. Since they're free I signed up for a bunch of hotel and airline reward programs so this way I'm ready in case some new opportunities come up (more on this below).
Week 1:
The first week is an introductory week. You will get a daily email introducing you to the platform and various concepts of travel hacking.
Day 1: Welcome
– Introduction to the cartel
– Introduction to the travel hacking
– Recommended introductory tutorials/videos
Day 2: Earning and Redeeming Miles
– Introduction to earning miles
– Introduction to redeeming miles
– Goal setting (where do you want to go?)
– Reminder to join various mileage programs, including one airline (each) from OneWorld, Star Alliance and SkyTeam
Day 3: Ongoing Promotions
– Reminder of ongoing mileage promotions
– Examples of way to earn, including surveys and seasonal promotions
Day 4: Mileage Madness with Credit Cards
– Introduction to earning mileage with credit cards and bonuses
**For those of you in Canada, AMEX is pushing hard to increase sign-ups after losing the Costco partnership so it might be a good time to sign-up!
Day 5: Creative Redemptions
– Steps to maximize your mileage redemptions
Week 2:
No emails…
Initial impressions…
So far I've got some benefits from the Cartel and the information from the first week is very focused for beginners.  As of now, I wouldn't say it's worth $39/month (yes, I know it's only been $1 so far), but at the same time don't feel scammed either.  I'm looking forward to what the cartel offers over the next few weeks… Stay tuned for updates!
Update – January 15, 2016
Still no emails since week 1. Also, my trial period has ended and I'm paying $39/month.
I took a look at the existing deals and managed to get another 100 aeroplan miles and 100 Marriott points.  Also signed-up for UK surveys in hopes of getting surveys in the future in exchange for Avios points.
Update – January 16, 2016
Got a couple emails today.  One was for bonus Finnair points and another for bonus Starwood points.  Couldn't take advantage of either, but at least the emails are back!
Update – January 23, 2016
Been getting more regular emails on earning opportunities.  Nothing that I can use, but it all depends where you live I guess.  In the meantime, I setup a Rewards for Thoughts and completed a few surveys for almost 1,000 BA Executive Club (Avios) points.
Update – February 6, 2016
The emails have mostly dried up again.  Considered cancelling the subscription, but decided to downgrade to Business Class for now to see how things go for another month.
Update – February 18, 2016
Nothing impressive has come through in the last couple weeks.  Still get the occasional email, but nothing that is all that impressive.  Will give it another couples weeks and then likely cancel.  Sigh, my dreams are broken.
Update – February 27, 2016
I wasn't getting my money's worth so decided to cancel.  Oh well, it wasn't a total waste and they make it SUPER easy to cancel.
Update – March 2, 2016
Got an email asking me to come back.  As per their money back guarantee, they offered me a free month.  The email was very genuine so I decided to take them up on the offer.  Stay tuned for more!
Update – March 27, 2016
There's been very limited emails in the last few weeks.  In the meantime, I continue to do surveys whenever possible to keep collecting points.
Update – April 29, 2016
Haven't received much in the last while so I decided to cancel my subscription.  This is not to say I didn't benefit from the site, I just didn't see an ongoing benefit of being a member.  My plan is to come back from time to time to see if there are any new strategies that can be exploited.