Spain has always been known for their passionate language, their passionate men and their beautiful landscapes. Fortunately for thrill seekers, those are not the only things Spain is known for. One great piece of history lies in their less conventional sport of bull fighting.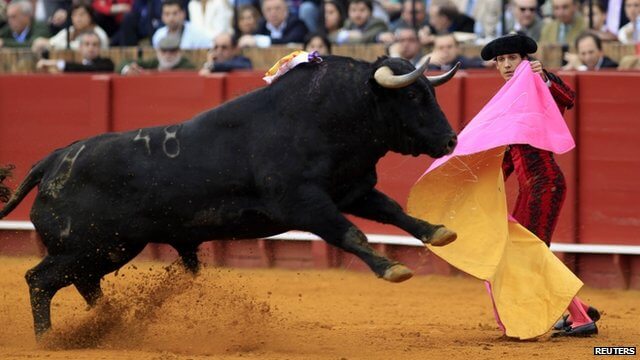 The bullfighting season starts in April and goes until September, with the biggest cities holding events on a weekly basis for tourist entertainment. But the greatest of the most bullfighting events in Spain come only a couple of times in a season. If you want your adrenaline flowing and your heart pounding, here are the two best times to book a vacation to Spain
July – Running of the bulls in San Fermin
There is great history and preparation for this event each year. While the whole event of San Fermin is way more than just The Running of the bulls, this is the time you want to stop by Spain for a good dose of adrenaline.
The event is simple. Brave men want to prove that they are indeed manly by out-running the bulls to the ring where they will be fought that same day. All you need to do in order to be eligible to participate is be over 18, not be under the influence of alcohol and, if you want to stand a chance of not getting hurt, run as fast as you can when you hear the second rocket going off. If you either decide to watch others run in fear or be the one that is running, the adventurer in you will thank you.
February – Ciudad de Rodrigo's festival
As a Salamancan district, Ciudad de Rodrigo's festival focuses more on bullfighting and less bull running. While yes, a bull running is held, what you will find more interesting is the bullfighting taking place during the festival. You can see professionals do what they are best at, young aspiring bullfighters that take on an adult bull for the hopes of someone important taking them under their wing and thrill seekers that throw themselves into the ring for the experience of facing a bull.
The greatest thing of this festival is you can get a first-person experience of bullfighting. Young bulls are provided to those that are interested in the sport to feel what it is like to be a bull fighter.
Such events are sure to leave your heart pounding out of your chest. It does not matter if you take the bull by its horns or watch others do so. It is thrilling and scary at the same time to see a plain human take on a 500 kg massive animal with horns that can obliterate you. If you are looking for a story to tell when you come back from your vacations, you simply can't miss such opportunities in Spain.