If you're on a tight budget or ended up sleeping in and missing a scheduled walking tours, below is a basic summary of some of Milan's central attractions.
(Duomeo Di Milan) Milan Cathedral and its surroundings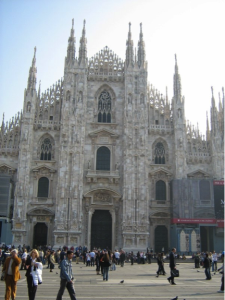 Unfortunately taking photos in the Cathedral is not allowed, so you can only take pictures from the outside and in front of the building. Milan Cathedral was built in the 14th century and is famous for its 3000+ statues.
The area that surrounds the Cathedral has a number of pleasant cafes and restaurants. Time passes quickly here sipping on a cup of Italian coffee.
From here you can easily reach The Scala (Teatro alla Scala).  Milan's Scala is the place that every opera singer dreams of.
Opposite the opera house you will find Leonardo's statue.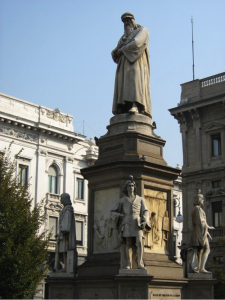 In order to see Leonardo Da Vinci's 15th century mural, "The Last Supper" that he finished as his masterpiece in 1498, head to the monastery as it is found on the wall of a monastery's dining room.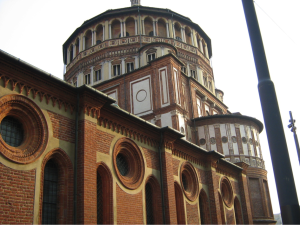 Each 15 minutes only twenty people can go in into the hall, which is then sealed from both sides.  Be sure to book your tickets in advance! If you miss your time slot you won't get another on the same day (or even the same week).
The church next to the monastery is also recommended – the Santa Maria delle Grazie basilica. The original little chapel has been incorporated into the current building and inside you can see many divine statues, memorials, and family shrines.
Next is the legendary Leonardo Da Vinci Science and Technology Museum that contains a lot of reconstructions of Leonardo's works, including designs and idea plans.
Once inspired by Leonardo's many relics, head over to Sforza Castle which is in the centre of Milan. On your way you can look around at some shops or eat a good Italian pizza. The castle has been there since 14th century and is the main symbol of the city.
In front of the great Gate you can sit for a while and just look around. A lot of students spend their time at the nearby fountain. If the weather is nice you might see some talented skateboarder groups practising their shows alongside some street musicians.
Nowadays some fine galleries and museums like The Museum of Ancient Art are situated in the Sforza Castle. When you leave the castle be sure to take a look at the castle's tail gate. The sight from this perspective is very enjoyable.
The tour ends at the mermaid bridge and a very large park.  Be sure to take this in if you still have time.