Inca Trail

Machu Picchu

A challenging and very rewarding experience! Great staff and well organized. It's no wonder G Adventures handles over 60% of the Inca Trail traffic. Food on the trail was very good (especially for the environment) and the equipment was top quality.
Trip Taken:
Inca Discovery Plus. Details available at G Adventures.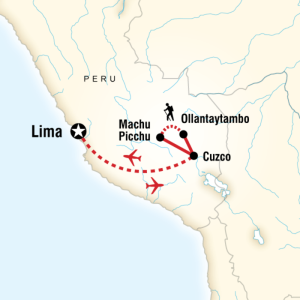 Getting There:
Fly into Lima and transfer to Cuzco via a domestic flight. Once in Cuzco, take ground transport to Ollantaytambo to start your trek.
Important note! Cuzco is 3200m/10,500ft above sea level. Many people will experience some sort of difficulty breathing and/or headaches. Be prepared and carry around Advil/Tylenol all the time. If you're really worried, come prepared with prescription medication. After the first night, things should get a lot better as your body adjust to the climate.
Accommodations:
Both the accommodations in Lima and Cuzco are hostel style accommodations. Clean with running water, but definitely not a luxury hotel. On the trail you are provided with all the meals, snacks, tent, and basic floor liner. You have the option to rent an additional softer floor liner, sleeping bag (good quality and warm), and walking poles (all recommended!).
The Trail:
Roughly 45km, peaking at over 17,000ft above sea level. It is a difficult, but manageable hike especially if done over four days. The guides will give you plenty of breaks and tell you about the history/symbols of each area. While there, I witnessed some not-so-fit people on the trail and they were fine, albeit slower than the others. The view of Machu Picchu at the end is priceless!
Winaywayna:
There are many sites you get to see on the Inca Trail that you otherwise wouldn't by taking the train. As beautiful as Machu Picchu is, many of the ruins you see along the way are even more beautiful including Winaywayna. You will come across Winaywayna at the end of the 3rd day and is rarely frequented even by those doing the Inca Trail. As hard as it is to go the extra 15 minutes walking after a long three days of hiking, Winaywayna is not to be missed. It's a true gem that unofficially servers as a reward to those brave enough to do the trek.
*This post contains affiliate links